A host of mega projects to be built in Dubai in 2015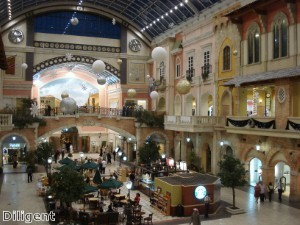 Throughout 2014, developers have been making big announcements about some of the mega projects they have planned for next 12 months, meaning 2015 is set to a big year for Dubai.
As part of the plans to prepare the emirate and enhance its infrastructure in the run up to the World Expo 2020, several attractions will be built in the next five years, with the ground being broken on many during the next 12 months.
Here are two of the most notable planned additions to Dubai.
The Mall of the World  
Dubai won several prizes last year for the retail experience it can offer tourists, including being named best in the world for shopping by TripAdvisor. So, it's unsurprising that the emirate wishes to capitalise on this even further in 2015.
However, the announcement made in the summer that the emirate would soon be home to the globe's biggest retail centre amazed everyone. Dubai Holding revealed that it would be building the Mall of the World, a 48-million sq ft development worth AED25 billion (£4.4 billion) that will overlook Sheikh Zayed Road.
Once completed, the development will welcome around 180 million visitors, according to Dubai Holding.  
Theme parks
Back in September, Dubai Parks and Resorts revealed it had started work on a three-theme park complex, with each having its own unique concept. One would be based on Hollywood, one on Bollywood and the final would be a Legoland - the first in the Middle East.
Abdulla Al Habbai, chairman of Meraas Holding, the company developing the sites, said: "The project will feature leading intellectual properties from elite industry players to create leisure and entertainment concepts that are expected to draw more than five million residents and tourists annually."
The theme parks will be linked to the recently completed Dubai Metro, allowing easy accessibility to tourists heading to the emirate.