A guide to property prices in Dubai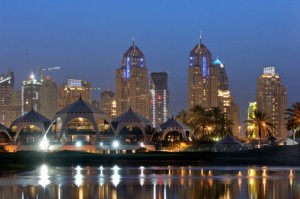 Just like anywhere else in the world, property prices in Dubai are largely affected by the infrastructure of surrounding areas. An area's idiosyncrasies can be used as unique selling points when attracting buyers and tenants, and can also create a plethora of business opportunities for occupiers.
There are several factors that can impact property prices in Dubai and each needs to be considered when contemplating investing in real estate in the emirate and, indeed, anywhere else in the world.
Here are some of the biggest considerations that need to be assessed before parting with any hard-earned cash.
Location
The location of a property is often seen as the most important factor that affects the value of a real estate investment. Although it may seem like common sense, property that has been built in an upcoming or already established area will be the most prestigious and its value is more likely to increase than that of its poorly-located counterparts.
'Location is still the biggest factor affecting the value of property and a house in the best neighbourhood can command a price nearly 50 per cent higher than a similar house in an average area,' explained Nationwide chief economist Martin Gahbauer.
Understanding the dynamics of a location is incredibly important. For example, if the area you're interested in is saturated with tourist attractions, then investing in hotel property would be logical. However, if the location is a hub for business, purchasing commercial offices would be a sound investment.
In Dubai, the highest demand for hotel facilities exists in the Marina area, whereas the most prestigious commercial property is located in the Tecom district of the emirate. Speaking to a property investment firm that understands Dubai, such as The First Group, will be of great help, as they can steer you in the right direction in terms of location.
Faisal Durrani, Cluttons' international research and business development manager, said: 'Like elsewhere in the city, residential values in Dubai Marina have been pegged back by government regulation at a local and federal level, yet we still recorded a four per cent rise on average between January and August, against seven per cent for Dubai as a whole.'
Infrastructure
A property's surrounding infrastructure will have a massive impact on the value of real estate. It is important that your chosen investment is in close proximity to the facilities and amenities occupiers and tenants will need or use the most.
If you are looking to invest in Dubai's lucrative hotel property then you will need to consider what tourists will need during their stay. The hotels that generate the best income will be in a central location surrounded by shops, a post office, a hospital and tourist attractions, and will situated be in an area that strikes the perfect balance between liveliness and peacefulness.
Conversely, if you are wishing to purchase commercial property then you should be looking for something that is a fair distance away from tourist attractions, has ample parking spaces, is in the vicinity of bank offices and food facilities, and has good transport links in order to ensure the best prices are generated.
Transport links
As mentioned above, strong transport links are important for both hotel and commercial property, as people want to be able to travel to their workplace or holiday accommodation with relative ease. If a commute is too long, then it becomes a hassle for people, reducing the value of the real estate.
Referring to the recently completed tram project, Mr Durrani commented: 'The Dubai Tram marks another milestone in the evolution of Dubai's infrastructure. Five years on from when the first Dubai Metro trains took to the tracks, residents are now going to get their first taste of community transport infrastructure.
'We must however take a longer term view as the Dubai tram is exactly the sort of infrastructure that the Dubai Marina area is likely to benefit from, and over time, this will start to significantly bolster house prices.
If a property is in close proximity to public transport, such as bus and train stations, the prices of mid-income housing is scaled up. Commercial property that is located near new roads and transport junctions will be more desirable to tenants and will therefore fetch higher prices. However, quite the opposite is the case for hotels, as traffic, noise pollution and crowds can negatively impact the revenues generated by this type of property.
'There are the obvious challenges of putting infrastructure into established parts of the city, but for somewhere like Downtown Dubai where values have risen by five per cent to AED1940 (£336.80) this year, excluding the Burj Khalifa, we can easily see transport linked premiums rising exponentially, once all our communities start being linked together,' Mr Durrani continued.
Keeping it green
The ecological state of the surrounding area can have an impact on property prices in Dubai, particularly for residential and hotel real estate. The quality of the water and amount of air pollution often factors into a tenant or tourist's decision when they are looking for a new home or holiday accommodation.
Areas that are considered to be green, such as those in close proximity to recycling centres and far away from factories, will generate the best profits. Furthermore, the views offered by the property will also impact the price. If a tourist looks out of their window and can clearly see the the emirate's unique skyline then the hotel can charge more compared to rooms with views that are restricted or unexciting.
Posted by Bob Brunskill