A guide to Dubai Marina properties
In 2014, properties located at Dubai Marina proved to be enticing investment opportunities, with the location becoming increasingly popular among buyers, tenants and tourists.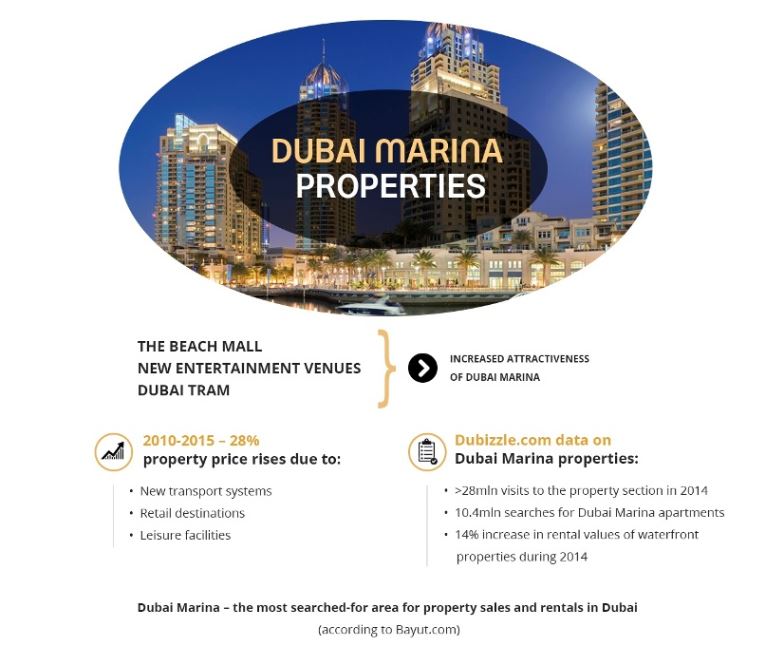 The area - one of the world's largest man-made marinas - has proven to be a favourite among people looking to experience waterfront living, whether that be permanently as a resident or temporarily as a visitor to the emirate.
Dubai Marina is particularly popular among investors looking to put their money into hotels, as the location offers owners of this type of property a lucrative income due its popularity, which does not wane no matter what time of year it is.
Increased interest
Over the last five years, this area of the emirate has become a favourite location among different types of investors and occupiers, such as people looking to purchase property to rent out to residents and tourists, or those looking for temporary accommodation during a holiday, for example.
The introduction of the Beach Mall has done much to boost Dubai Marina's attraction to tourists as it has everything they could ever need, including entertainment venues, eateries, retail outlets and, of course, golden sands to relax on. The completion of the tram service has also added to the area's appeal.
Property prices  
Research from chartered surveyor and property consultant firm Cluttons reveals that property prices in Dubai Marina have risen by more than a quarter (28 per cent) in the last five years, with values now standing at AED1,670 (£294.93) per sq ft.
The arrival of the Beach Mall, new entertainment venues and the completion of the Dubai Tram project have proved to be major draws for residents, boosting property prices significantly in the area, the company explained.
Lucy Bush, head of residential sales and leasing at Cluttons, said that owner-occupiers have been flocking to Dubai Marina to experience beachside living, while investors are snapping property up because they can take advantage of rental yields of between six and eight per cent.
Faisal Durrani, international research and business development manager for the firm, explained: "Prices have continued to hold or rise in the well-established areas such as Dubai Marina and JBR [Jumeirah Beach Residence], supported by completed infrastructure and community facilities. This appeals to owner-occupiers who are seeking beachside living and international investors that can achieve rental yields in the region of six to eight per cent.
"With this rate of return it's not surprising that Dubai featured second among nine global investment locations in our most recent International Private Capital Survey by Cluttons, just beaten by London to the number one spot."
Rental values
Data released from classified ads website Dubizzle reveals that rental values for one, two and three-bedroom waterfront properties at Dubai Marina increased by around 14 per cent during last year.
The report from the company reveals that its site had more than 28 million visits in 2014, with the area getting the most hits at 10.4 million compared to other locations in the emirate, demonstrating the popularity of real estate at Dubai Marina.
In addition, data from real estate website Bayut.com shows that the location was the most searched locality in Dubai for residential properties to rent, accounting for 10.75 per cent of all searches last year.