A guide: Commercial property investment in Dubai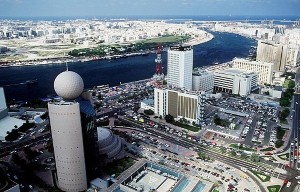 The commercial property investment market In Dubai has heated up in 2014, attracting interest from buyers based in the UAE, in the Gulf Cooperation Council (GCC) and elsewhere in the world.
According to figures from the Dubai Land Department (DLD), UAE investors completed real estate transactions worth an estimated AED12.5 billion (£2.16 billion) in the emirate in the first half of this year.
In addition, GGC investment in the real estate market exceeded AED19 billion between January and July 2014. Saudi Arabians accounted for 17 per cent of these transactions, making them the second largest investors in Dubai real estate, after Emiratis themselves.
Investment from Qataris ranked third, with 113 transactions totalling AED1.5 billion, Kuwaitis secured fourth place with 263 transactions worth AED839 million and Omanis came in fifth with a combined investment of AED482 million.
Commenting on the figures, Sultan Butti bin Mejren, director general of DLD, said: 'The wise policy pursued by the government of Dubai has created incentives that are encouraging smart real estate investors from across the world.
'The success of this policy, as evinced through the sheer volume of investments made by GCC citizens, points to the increasing trust placed in Dubai's property sector. This confidence will radiate to all corners of the globe and attract foreign nationals from countries outside of the region...'
Hotspot
Over the last 18 months, Dubai has re-emerged as a real estate investment hotspot after experiencing difficulties due to the financial crash in 2008. The emirate's property market continues to enjoy healthy growth as buyers flock to Dubai due to its 'safe haven' status.
Shayne Nelson, head of Emirates NBD, told Gulf Business: 'The UAE is seen as a very stable economy, well governed, well managed, and secure, and we have attracted investments from Syria and Iraq because of it.'
Office property
Offices based in Dubai's central business districts (CBDs) are continuing to attract investors, with rents remaining stable, according to Jones Lang LaSalle (JLL). The firm is expecting demand to remain robust for Grade A office space and occupancy rates continue to go from strength to strength.
The investment management company discovered that properties with excellent access to parking are doing particularly well. Furthermore, rates in the Dubai International Financial Centre remain buoyant, leading to demand spilling over into areas located outside of the free zone, particularly in buildings that can offer tenants high-quality units and value for money.
Retail property
The third quarter of 2014 saw developers shifting their focus to communities, wishing to draw the attention of residents, as well as tourists, to increase revenues. Over the last six months, several exciting projects have been announced, including the Mall of the World, which will break the world record for the largest retail outlet. These developments are not expected to enter the market in 2017, according to JLL.
Leaseback
The most appealing transaction for both occupying owners and investors are leasebacks, whereby one sells an asset and leases it back thus continuing to use the property but relinquishing ownership.
This type of relationship is beneficial for both the investor and tenants, as the former can enjoy rent from a long-term occupier and the latter can continue to operate business as usual. It also allows the seller-cum-tenant to accumulate enough capital to build up their business or real estate portfolio further.
Income-generating assets, such as commercial property, with reliable tenants signed up to long-term lease contracts are the first priority amongst investors in Dubai's real estate.
Location
Like anywhere else in the world, the price and potential revenue of Dubai's commercial property is largely affected by the infrastructure of surrounding areas. Real estate that is in close proximity to healthcare facilities, logistics businesses and retail outlets is particularly attractive among investors as it can provide stable and healthy incomes, while also holding the potential for growth in capital value.
Posted by Neil King