A busy week for Etihad Airways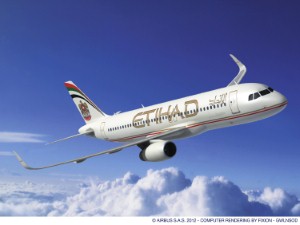 It has been a very busy week for one of TFG's new partners - Eithad Airways.
The national airline of the UAE has announced details of a major new deal with IAE International Aero Engines AG, which will see the firm upgrade a number of its current and future aircraft to the V2500 SelectTwo engine standard.
Bosses at the company said they will purchase 73 V2500 SelectTwo engine upgrade kits and this is the organisation's latest attempt to enhance its fleet.
With more and more people booking flights into the UAE, it is vital that Etihad Airways is constantly looking to expand.
As things stand, the carrier has a fleet of 66 planes and operates more than 1,000 flights per week, serving 84 passenger and cargo destinations across the globe. The company has also tied up some important deals over the past few years, securing a 30 per cent stake in airberlin - Europe's sixth largest airline - and 40 per cent of Air Seychelles.
Speaking of the new IAE International Aero Engines AG agreement, Etihad Airways' president and chief executive officer James Hogan said: 'The V2500 engine has played an important role in our Airbus A320 type operations, and SelectTwo is the latest example of how IAE strives for new solutions that add value to our fleet, whilst making our fuel-burn more efficient.'
This news came shortly after the company announced that Yahya Ahmed Hussein Al-Robaydi would become the firm's general manager in Yemen.
The airline recently revealed plans to launch four new services to the country's main business hub Sana'a from September 1st 2013, so Mr Al-Robaydi will certainly be busy in his new role.
Chief commercial officer at the company Peter Baumgartner thinks Mr Al-Robaydi has the necessary experience to raise the profile of the new Abu Dhabi to Sana'a route.
He also hopes travellers in Yemen will be attracted by the opportunity to catch linking flights to major destinations in Europe, Asia, the Americas and nations within the Gulf Cooperation Council from Abu Dhabi.