€6bn investment for Dubai 'if it wins Expo 2020'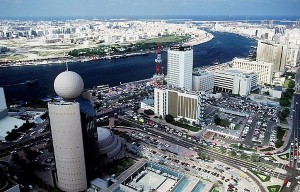 If Dubai is successful in its bid for Expo 2020, it could receive a €6 billion (£5 billion) investment to improve the city.
This is according to its ruler Sheikh Ahmed bin Saeed Al Maktoum, who was speaking to Bloomberg during the Dubai Air Show.
A lot of these efforts would be focused on increasing transport options - the event is expected to draw a vast number of people and the city has plans to improve capacity and ensure it is prepared.
He said: 'We need to extend maybe the metro, the road infrastructure to the site and [do] a lot on the site itself.'
When asked about possible funding, the sheikh said funding was not a problem as it had a 'business case' to cover this. Although he did not comment further on this backing, Dubai is nonetheless a wealthy region and its influx of tourists and businesses should ensure it has money to put towards its goals.
As has been seen in very recent news, Dubai is well prepared as far as international links are concerned. This week saw the start of Dubai Air Show, running from November 17th until November 21st, with the opening day featuring record-high sales of $192.3 billion (£119.4 billion) on aircraft and engines.
A lot of this business was from companies which primarily operate within the region, such as Etihad Airways, a partner of The First Group. Aside from marking the city as the Middle Eastern centre for aviation, the strong purchasing suggests confidence from those which operate to and from the region.
Likewise, Dubai also has two facilities to support the predicted influx. Dubai International Airport already serves as many as five million passengers each month, according to September's figures, while the more recently opened Al Maktoum International Airport is a new passenger terminal at Dubai World Central - both of these hubs provide convenient drop-off points and room to meet this anticipated demand.
Dubai's ruler told Bloomberg the more recent Al Maktoum passenger terminal would be updated first, which could be achieved in six or seven years - just in time for Expo 2020.