$5bn in revenue 'to come from Dubai theme parks by 2020'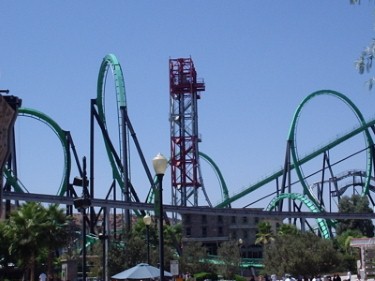 By 2020, Dubai's host of theme parks will generate around $5 billion (£3.18 billion) in revenue.
This is according to organisers of Dubai Entertainment, Amusement and Leisure (Deal) show, who also claim that these attractions will be responsible for luring 25 million visitors overall during the next five years.
Abdul Rahman Falaknaz, chairman of International Expo Consults, the group behind Deal, explained that the theme park industry in the UAE has experienced phenomenal growth and success in the last few years.
He believes that the country will benefit further from multi-billion dollar revenues through this industry by 2017.
"Entertainment and leisure projects within the UAE and across GCC have boosted the confidence of the amusement and leisure industry manifold. [The] UAE is experiencing this exponential growth because of its quality infrastructure and growing tourism and retail industry sectors," Mr Falaknaz noted.
Another area where Dubai is excelling in is meetings, incentives, conferences, and exhibitions (MICE) tourism, with the region gaining international prominence due to its year-long calendar of trade events. 
"This also brings in considerable amounts of footfall as families merge business with leisure activities and that further propels the theme park industry", he explained.
He believes that MICE tourism will open the doors of opportunity to Dubai, as the emirate merges this sector with family tourism, with theme parks able to keep families entertained, while businessmen and women slip away to whatever event they need to attend. 
Mr Falaknaz claims that Dubai's leisure and attractions industry compares favourably with other global markets, especially as more projects are in the pipeline for the future, which will boost the emirate's international position. 
Ahmad Hussain bin Essa, chief operating officer at Global Village, feels that Dubai has a unique product to offer tourists, as well as residents and expats. He added that the emirate and wider GCC is set to witness a boom in tourism as new projects are being planned to realise Sheikh Mohammed bin Rashid Al Maktoum's Tourism Vision 2020.