50th aircraft milestone for flydubai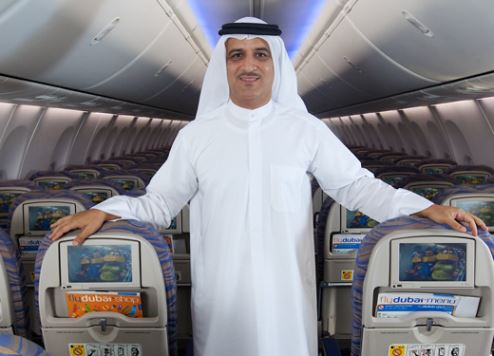 flydubai has marked a major milestone in its development strategy after taking delivery of its 50th aircraft.
The arrival of the Boeing Next-Generation 737-800 on September 28 fulfilled the low-cost carrier's (LCCs) vision for expansion set out in 2008 when its initial aircraft order was made at the UK's prestigious Farnborough Air Show.
"In the six years since flydubai was launched we have built a network of 94 destinations with new cities joining all the time," said flydubai chief executive officer Ghaith Al Ghaith.
"We have benefitted from being located in Dubai, an international centre for business."
He said the airline had supported Dubai's commercial and tourism sectors by opening up 67 new routes that were not previously directly linked to Dubai by air.
"We are recognised by our passengers for providing reliable travel services and have helped to change the way people travel across our network. This aircraft [delivery] represents the fulfilment of the vision set for the airline in 2008 and it has been a remarkable journey," added Al Ghaith.
flydubai made history in 2008 with the largest order for single-aisle aircraft in the Middle East totalling 111 Boeings.
The airline will receive 11 Next-Generation 737-800 aircraft between 2016 and 2017, followed by 100 737 MAX aircraft between 2017 and 2023.
"flydubai's growth has been nothing short of remarkable," said Boeing Commercial Airplanes president and CEO Ray Conner.
"We are extremely proud of our partnership with flydubai and the confidence and trust it continues to place in Boeing's present and future single-aisle airplanes."
flydubai carried 7.25 million passengers in 2014 and 24.3 million since it launched operations.
The airline posted revenues of AED 4.4 billion last year, up 19.1 percent on 2013 and generating profits of AED 250 million (up 12.3 percent year on year).
flydubai's biggest growth market in 2014 was Central Asia, with passenger numbers from the continent up 57 percent compared to 2013.