5 things to consider when choosing real estate companies in Dubai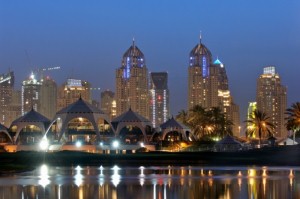 There's never been a better time to buy property in Dubai. Thanks to its booming economy and investor-friendly 'safe haven' status, the emirate is home to one of the world's most exciting real estate markets - something most industry watchers agree will continue to be the case for the foreseeable future.
Whether you're looking to invest in luxury homes, commercial property or office space, Dubai should prove an attractive option. The hotel segment is also a strong bet, especially as emirate officials make steady progress towards their goal of boosting tourism figures to 20 million visitors per year by 2020.
However, as with any property investment, you'll want to find a competent and trustworthy agent. Choosing a real estate company in Dubai can be a challenge, particularly for western developers: with much at stake financially, it's important to know you're working with an intermediary who understands the local market and can guide you through the property-investing process with knowledge, expertise and passion.
If you're looking to begin building up a portfolio of property in Dubai's fast-growing real estate market, here are five things to consider when choosing an agent to work with.
Understanding your needs
Thanks to Dubai's unique status as an international hub of travel, tourism, business and leisure, there are many reasons you might be interested in investing in property in the emirate. You could be looking for a luxury home, a hotel, a motel, an office or retail real estate. Whatever the case, you need an agent who understands exactly what you want and will help you make the most of every penny you invest.
Experience in the market
As the emirate flourishes on the international stage, the number of businesses that have recognised its potential for lucrative property investment opportunities is on the rise. If you're looking to navigate this complex market, your best bet is to seek out the real estate companies that have the most experience in Dubai - the agents with the most intimate, expansive knowledge of the city's past, present and future. Ensure that your partner has a proven track record of buying and selling property in the emirate - that way, you'll be confident that your investment is in safe hands.
A knowledge of Dubai
Of course, choosing a real estate company in Dubai isn't just about finding one with an in-depth knowledge of the city's property market - they should also be capable of demonstrating an in-depth knowledge of the emirate itself. Your agent ought to be able to tell you about the specific history and culture of each location you consider, as well as any forthcoming developments - such as new retail and leisure hotspots - that might have a bearing on your investment in the future.
A vibrant, well-maintained portfolio
You can learn a lot about a potential partner in the real estate market by looking at their portfolio of properties and the condition they're kept in. Are your agent's homes, hotels and offices all iconic properties, set to grow in value for generations to come? Are they maintained to a high standard, with Dubai's finest workmanship and furnishings on display? Have they been developed with the needs of a specific clientele in mind? If in doubt, you should inspect the properties yourself before committing to an investment.
The potential for a fruitful partnership
Finally, if you're looking to invest in Dubai's real estate for the first time, the chances are you'll want to establish a fruitful, long-term partnership so you can continue adding to your portfolio as the emirate goes from strength to strength. With this in mind, look out for agents that have all of the above qualities as well as a proactive, communicative nature - these are the ones that you'll want by your side in the long run.