24-hour shopping during Eid Al Adha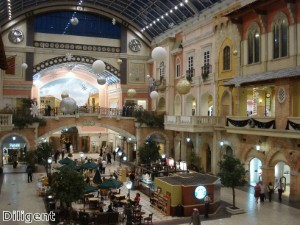 For the first two days of Eid Al Adha, a number of shopping centres in Dubai will be offering 24-hour shopping opportunities.
Eid in Dubai - Eid Al Adha will run from October 10th to 19th. When not open all day and night, many of the retail locations will offer extended shopping hours, staying open from 10:00 to 14:00 local time. Many restaurants will trade until 03:00 local time.
Dubai is known for its shopping opportunities and the festival offers shoppers from around the world an ideal opportunity to visit the city. This is good news for Dubai hotel investors as, aside from the influx of shoppers visiting in this period, the annual holiday spreads awareness of the shopping and entertainment available all year-round.
The locations staying open for 48 hours are the Dubai Mall, Mall of the Emirates, Mirdif City Centre, Deira City Centre, Arabian Centre, Lamcy Plaza and Dubai Festival City Mall. Some additional locations - such as the Ibn Battuta Mall, Dubai Outlet Mall, BurJuman, Al Ghurair Centre and Mercato - will also offer extended hours from 10:00 to 00:00 local time.
Director-general of the Department of Tourism and Commerce Marketing (DTCM) Helal Saeed Al Merri said: 'The success of the inaugural Dubai 24 hours shopping experience last year - as reflected by the positive feedback from residents, visitors and our partners in the retail sector - was an endorsement of the contribution that retail makes to the city's economy.'
Other activities are also taking place during the Eid in Dubai period, including a Vogue Fashion Dubai Experience. Global Village - potentially the largest shopping centre and entertainment area in the world - is set to open its doors on October 5th.
Eid in Dubai is being overseen by DTCM's agency the Dubai Festivals and Retail Establishment (DFRE). Chief executive officer of DFRE Laila Mohammad Suhail said the festival showcases the city's 'cultural diversity due to the participation of people from numerous nationalities and cultural backgrounds'.
This is expressed in the theme of this year's festival - 'Eid Al Adha unites us in Celebration'. It will be the sixth Eid in Dubai.