2020 vision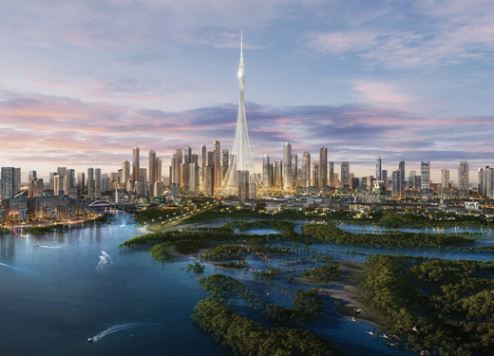 A round up of the top projects set to make an impact in 2020, the year Dubai hosts the World Expo
At the end of the decade, Dubai will not only host the World Expo for the first time, it will unveil several new mega developments. Here's our round up of the major infrastructure developments set to open by 2020.
Route 2020 Project
Completion date: end 2019
The Red Line of Dubai Metro will be extended from Nakheel Harbour and Tower station to the new site for Expo 2020. The new line will stretch for 15km, of which 11.8km will be elevated track and 3.2km underground track. It will have seven stations, including an interchange station, one station at the Expo site featuring aircraft-inspired, wing-shaped structures, three elevated stations and two underground stations.
Meydan District One
Completion date: before 2020 (phase one)
Located between Meydan and Al Khail Road, with a total built-up area of 50 million square metres and home to 78,300 residents, Meydan's District One will break a host of world records. The project will feature a 711-metre-high tower, a huge new mall, the world's largest indoor ski slope, a 25,000-square-metre indoor sports facility, the biggest dancing fountains in the world, a beach and a civic plaza capable of hosting up to 60,000 people. It will also be home to a five-star hotel with 350 keys, a conference centre, the world's tallest 360-degree observation deck at an elevation of 655 metres, the world's highest sky restaurant at 675 metres above sea level, 885 apartments and a 100-berth marina yacht club. The project's first phase will include the tower, mall, civic plaza and dancing water feature, along with a 4km canal and the marina.
Dubai Bicycle Master Plan
Completion date: 2020
The Dubai Bicycle Master Plan aims to make the city more cycle-friendly by developing  900km of dedicated cycling tracks by 2020. Dubai's Roads and Transport Authority (RTA) has already started work on the project with numerous sections complete such as the new 21.2km track opened in October 2015 that connects with the existing cycle path at Seih Assalam and Al Qudra Road, which itself stretches for 115km. Other existing paths are a 25km stretch on Jumeirah Beach Road, a 1km route in Bur Dubai and the recently opened 9km track that runs alongside the Dubai Tram.
The Tower at Dubai Creek Harbour
Completion Date: 2020
The Tower, designed by Spanish-Swiss architect Santiago Calatrava, will be built in the heart of Dubai Creek Harbour, the six-square-kilometre master-planned community located adjacent to Dubai Creek. When completed, it will become the city's tallest building, standing at 928 metres. The Tower will comprise residential and leisure features including a 360-viewing deck and a VIP observation deck. It will also feature fully glazed balconies that extend outward, rotating outside the skin of the tower, as well as a boutique hotel for visitors to Dubai.
Deira Mall
Completion Date: 2020
Deira Mall will be located at the heart of Deira Islands, a new, 15.3 sq km waterfront master community that will contribute to Dubai's 2021 Vision by transforming 'Old Dubai' into a world-class hub for retail, tourism, living and leisure. With four million sq ft of leasable space, Deira Mall will feature more than 1,000 shops, cafés, restaurants and entertainment outlets across three floors.
MGM and Bellagio Hotels
Completion Date: 2021
US-based MGM Resorts International is set to develop a 26-acre 'premier destination resort', including an MGM Hotel and residences, as well as a Bellagio-branded hotel – together comprising a total of 1,000 rooms and 10 villas. There will also be a 500,000-square-feet theatre, a range of restaurants, museums, a major beach club and adventure zones for both adults and children.
Dubai Tram Expansion
Completion date: TBC
Dubai Tram is set for growth with phase two of the Dubai Tram project, which will extend the line by a distance of 5km and take in iconic destinations, such as Burj Al Arab, Madinat Jumeirah and Mall of the Emirates. The RTA's masterplan also includes a third-phase extension that is likely to run alongside Jumeirah Beach Road all the way to 2nd December Street intersection.
The Palm Promenade
Completion date: TBC
The entire trunk of Palm Jumeirah is set to be transformed into a walkable beach, park, retail and café complex named The Palm Promenade. Stretching 1.5km along the island's trunk, the project encompasses new walkways and road crossings connecting the area's 30 apartment buildings with Al Ittihad Park, Palm West Beach, the Golden Mile Galleria retail and dining complex and the upcoming Nakheel Mall.