2018 IN REVIEW (Pt.1)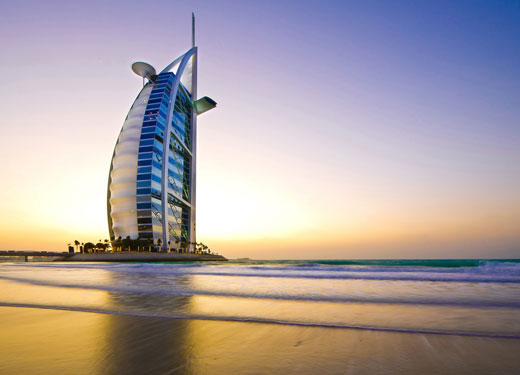 2018 has proven another remarkable period in Dubai's development. In the first of our two-part series, we look at the significant milestones that shaped the first half of the year
JANUARY
New conservation tourism project revealed: UAE Vice President and Prime Minister and Ruler of Dubai HH Sheikh Mohammed bin Rashid Al Maktoum officially launches the Marmoom Reserve project, the largest sustainable environment, tourism and recreational project in the UAE.Located on the outskirts of Dubai and covering 10% of the emirate's entire area, the massive project is home to more than 204 species of native birds, 158 species of migratory birds, and more than 10km of lakes, encompassing the Al Qudra Lakes.
Emirates reveals plans for major expansion of A380 fleet: Emirates effectively secures the future of the Airbus A380 after revealing plans to add 36 superjumbos to its existing fleet. The airline confirms the $16 billion deal a day after Airbus reveals it will be forced to halt production of the aircraft without any firm orders on the table. Emirates is already the world's biggest customer for the A380 with 101 in its fleet and 41 further orders placed.
Dubai to rank among world's top 100 cities by GDP by 2035: Dubai will rank among the world's top 100 cities in terms of gross domestic product (GDP) output by 2035, according to a new report published by Oxford Economics.The UK-based analyst's new Global Cities 2017 report, which lists 780 cities globally, predicts Dubai will join Abu Dhabi and Riyadh as the only cities located in the Gulf region to rank among the top 100 by 2035.
Hotel rates at record highs:Dubai's hotel sector reports one of its best January performances to date, with the average daily rate across the city rising 36% year on year, according to STR data. Based on daily data, Dubai's hoteliers report a 5.5% increase in supply, compared to a 5.5% increase in demand. The average occupancy rate across the city rises 1.5% to 86.4%, while revenue per available room increases 1% to reach AED703.89 ($192.00).
FEBRUARY
Dubai secures record number of business events: Dubai Business Events (DBE) reveals it secured a total of 212 bids throughout 2017, representing its most successful year to date. As a result of these deals, an additional 95,000 delegates will visit Dubai in 2018, generating AED715 million in revenues for the local economy. Dubai submitted a total of 354 bids for business events throughout 2017.
Dubai named fourth most-visited city worldwide: Dubai Tourism reveals the emirate welcomed 15.8 million international overnight visitors in 2017, marking a 6.2% increase on 2016 and putting the emirate within striking distance of its goal of 20 million visitors by 2020.The result represents a new annual record for the emirate.India proved the top source market in 2017, with 2.1 million visitors. Saudi Arabia ranked second, contributing a total of 1.53 million tourists. Elsewhere, fifth-placed China contributed 764,000 tourists, up 41%, while eighth-placed Russia accounted for 530,000 visitors, recording a stellar 121% increase over the previous year.
MARCH
Dubai Q1 real estate transactions boom: Dubai records almost 14,000 real estate transactions worth AED58 billion (US$15.8bn) in the first quarter of 2018, according to data published by the Dubai Land Department (DLD). Dubai's property sector remains an investor's market, with the DLD data revealing the bulk of sales (9,092 transactions) are accounted for by cash purchases worth $5.2bn, compared to 3,717 mortgage-based transactions worth more than $8.33bn, and 950 other transactions valued at $2.28bn. UAE nationals account for the majority of sales during the first quarter, according to DLD data, with 1,587 transactions worth $1.1bn made by 1,264 investors.Indian nationals rank second in terms of total sales, with 1,550 transactions worth $810m made by 1,387 investors.
Dubai's transport infrastructure ranks 'among the world's best': Dubai boasts the world's third-best transport infrastructure, according to Knight Frank research.The firm's Hub Report compared seven major cities worldwide in terms of the performance of their respective infrastructure, logistics and industrial sectors.In the period 2007-2017, Dubai's industrial sector expanded 10.7%, compared to Hong Kong (42.0%), Singapore (59.6%) and Shanghai (85.8%). However, the development of new infrastructure will see the city's industrial activity grow by 57.4% over the next decade, outpacing these cities, according to the report.
World's tallest hotel opens for business:The world's tallest hotel,Gevora, opens in Dubai's Trade Centre precinct. The 528-key hotel spans 75 floors and towers 365 metres above Sheikh Zayed Road.The new hotel eclipses the 355-metre tall JW Marriott Marquis, which had held the record as the world's tallest hotel since its launch in 2012.
Super rich making Dubai their permanent home: A new reportfrom Knight Frank reveals the number of ultra-high net-worth individuals (UHNWIs) who had made their homes in Dubai rose 12% between 2015 and 2016, ranking Dubai above global cities such as Tokyo, London, Hong Kong and New York in terms of growth during this period. Overall, Dubai currently ranks 25th overall in terms of its number of UNHWIs.
APRIL
Dubai government reveals sweeping economic reforms: The Dubai government reveals a new economic stimulus plan designed to boost business confidence and economic growth in the emirate. Highlights of the strategy include a plan to allocate 20% of government tenders to small and medium-sized businesses; develop a viable timeshare-based holiday sector; and introduce a mortgage law to further stimulate sales in the real estate market. Other initiatives include rationalising fees structures for SMEs, cancelling fines relating to business licences, and other measures designed to reduce operational costs in the retail sector.
Dubai's property market a magnet for international investors: Dubai's real estate sector ranks among the world's largest in terms of foreign direct investment (FDI), according to a report published by industry analyst JLL.The findings are supported by recent data published by Dubai Land Department, which revealed Dubai registered 69,000 real estate transactions in 2017, worth a total US$77.6 billion, up from 41,776 transactions worth $70 billion in 2016.Of the 2017 figure, foreign investors accounted for more than $15 billion-worth of property transactions. Gulf-based investors committed more than $10 billion to property purchases in the emirate, while Indian investors made $4.24 billion-worth of investments, Saudis $1.9 billion and Brits $1.6 billion. Meanwhile, Pakistanis invested almost $1.4 billion in the emirate's property market. Other notable nationalities included Chinese, Canadians, Egyptians and Jordanians.
Dubai dominates GCC luxury hotel pipeline: Dubai and the UAE, which already accounts for 73% of the GCC's five-star hotel market, will continue to lead the development of luxury hospitality in the GCC well into the 2020s, according to new research published in conjunction with Arabian Travel Market (ATM). The report highlights data that shows the markets account for a combined 61% of the region's current five-star hotel pipeline.
MAY
UAE to issue 10-year visas to investors, entrepreneurs:  In a landmark development, UAE authorities reveal they will offer investors, entrepreneurs and highly-skilled workers the option of applying for 10-year residency visas, while also allowing 100% foreign ownership of new businesses being set up in the country.Authorities will offer longer visa options for students studying at UAE universities to encourage them to forge post-graduate careers in the Emirates. According to a government statement on the matter, the new visa system will increase the chances of attracting investors and competencies to the UAE, increasing the country's global competitiveness ranking. 
Emirates records another bumper year of growth, profits: Emirates Group announces its 30thconsecutive year of profit, with the final figure reaching AED4.1 billion (US$1.1 billion), up 67% year on year. Revenue reached AED102.4 billion ($27.9 billion), an increase of 8% over last year's results, and the group's cash balance increased by 33% to AED25.4 billion ($6.9 billion).
UAE 'region's most competitive economy':The UAE is named the most competitive economy in the Middle East and the world's seventh most competitive, in the IMD World Competitive Ranking 2018 report. The UAE tops the ranking in the Middle East ahead of the likes of Saudi Arabia (39th) and Jordan (52nd). The report states the UAE "had shown progress in the rankings", with the country "benefitting from the strengthening of its international trade".
JUNE
Foreign capital floods Dubai's high-tech sectors: Dubai's strategy to become one of the world's smartest cities and most important technology hubs is paying dividends, with foreign investors flocking to the city encouraged by strong government start-up support and related initiatives. Government data reveals the emirate ranks first worldwide for foreign direct investment (FDI) in technology transfer relating to artificial intelligence and robotics research and development, and third overall globally in terms of total investments.The number of FDI projects doubled year on year in 2017 to reach 367.
Business events boost Dubai's economy by $3.45bn: Dubai's MICE sector continues to expand, with Dubai World Trade Centre (DWTC) – the city's biggest events venue and organiser – revealing it generated AED12.7 billion (US$3.45 billion) in retained value to the emirate's economy in 2017, representing 3.3% of total GDP.DWTC events generated total revenues of AED22.5 billion, marking an eight percent increase compared to 2015, according to DTWC data.Furthermore, for every AED1,000 spent at an event staged by DWTC, AED4,300 is generated in terms of overall economic benefits.
Dubai's world-class infrastructure lures investors: The UAE is the world's third most important destination for infrastructure investments, with Dubai's massive expansion strategy leading the way, a new report published by US-based financier Bank of America Merrill Lynch reveals.Dubai has $42.5 billion-worth of infrastructure developments under construction, with the bulk of these designed to support the staging of Expo 2020 Dubai.
Dubai hoteliers report strong Ramadan results: Dubai is just one of three major hotel markets across the region to register occupancy growth during the Holy Month of Ramadan compared to the corresponding four-week period in 2017, according to data published by industry analyst STR.Dubai was joined by Makkah, Saudi Arabia, and Ras Al Khaimah, UAE, in the list.