2014 'will be a good year for hotels'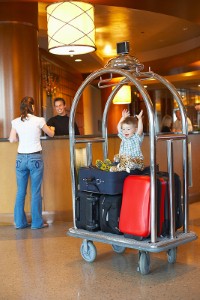 Next year is expected to be a good year for the hospitality sector in Dubai.
This is according to the Department of Tourism and Commerce Marketing (DTCM), which expects the industry to take advantage of the success seen already.
DTCM's chief executive of strategy and tourism sector development Ahmad Belhoul told Gulf News: 'Based on visitor numbers over the last 12 months, we expect continued and sustained growth in tourism numbers in Dubai during 2014, especially following the success of the UAE's bid to host Expo 2020.'
Part of this growth is down to the city's Vision 2020 goals. This is an aim to have 20 million annual visitors to the emirate by 2020 and, as such, various departments and bodies are doing their bit to make Dubai more appealing. This can be seen in its events, active shopping community and growing sports activities.
Mr Belhoul said: 'In 2014, we will continue to work towards our goals in close partnership with public and private sector partners to attract more visitors from both our traditional source markets and emerging markets.'
Yet, for this to happen, hotels will be needed to meet the rising numbers. Figures from STR
Global recently showed demand across the Middle East and North Africa went up 3.7 per cent in November, yet supply only rose 2.7 per cent.
As long as demand outstrips supply, even by a small percentage, the current needs are not being met. While Dubai certainly has plenty of visitors around the year, it is not on the scale of 20 million and, as such, new hotels will likely prove very important in the following years.
According to Mr Belhoul, tourist volumes would need to grow each year by approximately nine per cent to meet this target. Given that current hotels have an occupancy rate of over 80 per cent in the UAE, as stated by STR Global, the capacity within hospitality will likewise need to increase at a similar rate.