2019 IN REVIEW (Pt.2)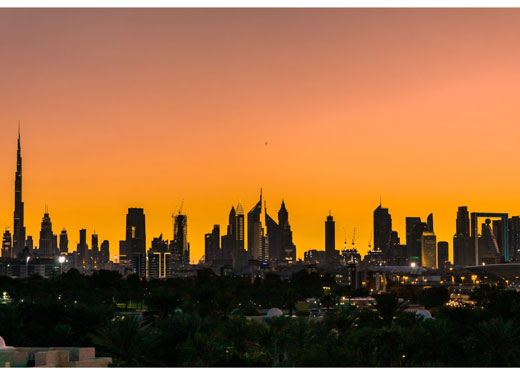 2019 marked another period of strong growth for Dubai's economy and reputation as one of the world's leading destinations for business, tourism and investment. In the final instalment of our two-part series, we look at the significant milestones that shaped the second half of the year
JULY
Dubai named best and safest place to live in the Middle East: Dubai is once again declared the best place to live in the Middle East in the latest Mercer 'Quality of Living' survey.
Dubai ranks first in the region and 74th worldwide, up one place on its ranking in 2018. Abu Dhabi ranks second in the region and 78th worldwide, up from 81st in 2018. Dubai and Abu Dhabi are also the region's safest cities, according to the report. Dubai wins praise for its stable political and social environment, business environment, education and public services.
Dubai reports bumper H1, 2019 tourism results: Dubai welcomes 8.36 million international overnight visitors in the first six months of 2019, up 3% compared to the same period in 2018, according to new data issued by Dubai Tourism. India retains its ranking as Dubai's most important source market, with 997,000 visitors in the first half of 2019. Saudi Arabia ranks second overall with 755,000 visitors during H1, followed by the UK with 586,000 visitors; China with 501,000 visitors, and Oman, with 499,000 visitors, up an impressive 28% compared to H1, 2018. The average hotel occupancy rate across the city reaches 76%, while occupied room nights total 15.71 million, up 5% compared to the same period in 2018. 
Oman and Nigeria 'Dubai's fastest-growing tourism source markets': Oman and Nigeria are declared Dubai's fastest-growing tourism source markets by Dubai Tourism. Arrivals from both countries rise an impressive 27% year on year in the first five months of 2019, according to the government data. The number of arrivals from Oman reached 418,000 during the surveyed period, up from 330,000 a year prior, while arrivals from Nigeria totalled 74,000, up from 58,000 in 2018. Oman is currently Dubai's fifth most-important visitor source market – and second-largest in the GCC behind Saudi Arabia – while Nigeria ranks 19th overall. 
Dubai Land Department (DLD) launches Manzili initiative: The DLD launches its latest online service designed to help property investors identify potential opportunities in the emirate based on their available budget and other factors. The Manzili calculator, which can be accessed online at www.manzili.ae, displays properties that "match a customer's financial capabilities with preferential options upon registering for current and monthly savings, including location and space, among other considerations", according to the DLD. The calculator also offers suggestions taking into account factors including the user's monthly earning capacity when generating results.
Dubai secures 118 new MICE events in H1, 2019: Dubai's official convention bureau, Dubai Business Events (DBE), reveals it secured 118 new bid wins in the first half of 2019 for events to be hosted in Dubai in the coming years. The events, which include conferences, meetings and incentives, are set to bring an additional 75,288 delegates to Dubai in the coming years, up 17% compared to the first half of 2018.
AUGUST
Dubai confirmed as host of global FDI forum: Dubai is named host city for the 18th World Forum for Foreign Direct Investment (FDI). The event will be staged in February 2021, coinciding with Dubai's hosting of Expo 2020, which will run from October 2020 to April 2021. The World Forum for FDI is recognised as one of the world's most important annual events for investors and regularly attracts delegates from across the globe. It is designed to showcase opportunities for FDI in the host city. Dubai is recognised as the hottest destination for FDI in the Middle East and Africa. Total FDI in the emirate rose 41% year-on-year in 2018 to AED38.5bn ($10.5bn), with the United States, India, Spain, China and the United Kingdom accounting for 70% of the total figure.
Dubai 'leads the world' for property rental yields: Dubai offers some of the strongest yields of any major property rental market in the world, according to a new report by global real estate portal, Property Finder. According to the research, Dubai properties provided 7%+ gross returns on average in the first half of 2019, outstripping rival international property investment markets including London (2.7%), Hong Kong (2.4%), New York (2.9%) and Singapore (2.5%).
UAE 'has record number of hotel guestrooms under construction': The UAE leads the Middle East and Africa region in terms of the number of new hotels and rooms under construction, according to new data by STR. The industry analyst reveals a record 54,438 guestrooms are under construction in the Emirates, equating to 31.8% of the UAE hospitality sector's existing room inventory. Hotel guestroom supply is forecast to reach 132,000 in 2019, with the emirate aiming to complete 160,000 hotel rooms by October 2020, the month it opens the region's first World Expo.
SEPTEMBER
Dubai named one of world's 'top three investment destinations': Dubai ranks among the world's top three destinations for foreign direct investment (FDI), according to the emirate's crown prince, HH Sheikh Hamdan bin Mohammed bin Rashid Al Maktoum. According to data from Dubai FDI, foreign investment in Dubai's economy reached $5.5 billion in the first quarter of 2019, marking a 176% increase compared to the same period in 2018.
First-time investors dominate Dubai property transaction data: First-time investors account for 57% of the AED106 billion ($28.86 billion)-worth of property transactions recorded in Dubai during the first five months of 2019, according to data from Dubai Land Department (DLD). The total value of transactions marks a 12% improvement on the AED95 billion-worth of sales reported during the same period in 2018. Forty-eight new real estate projects were launched in Dubai during the January-May period, accounting for an additional 8,000 residential units, the DLD reveals. Meanwhile, first-time investors accounted for 66% of the total number of sales reported in 2018 and 57% of the total value of investments.
Dubai tops global list for international visitor spend for fourth year running: International visitors to Dubai spent a combined $30.82 billion in 2018, making the city the world's 'most-valuable' destination, according to MasterCard's latest Global Destination Cities Index. Dubai topped the list for the fourth year in a row with average visitor spend per day reaching a record US$553, beating second-placed Makkah in Saudi Arabia, which reported total visitor expenditure of $20.09 billion and average daily spend of $135. In terms of average daily expenditure, Paris ranked second with a figure of $296. MasterCard predicts Dubai will further extend its lead in the rankings in 2019, with visitor expenditure forecast to rise 4.18% year-on-year.
OCTOBER
Dubai launches world's first cultural residency visa: As part of a broader strategy to establish Dubai as one of the world's great creative hubs, government authorities reveal plans to introduce the world's first residency visa intended for artists and creatives. Launched in co-operation with the Ministry of Interior, the long-term visa is designed to attract promising talent to the city. In addition to the new residency visa, Dubai authorities confirm plans to establish a new creative free zone in Al Quoz, while also launching a series of major cultural events, including the Dubai Global Literary Season, the Dubai Global Grad Show and Al Marmoum CineMania, which will be an open air international film festival in the Al Marmoom conservation area.
Dubai real estate 'offers value': Dubai is just one of four major global property investment markets that is not overvalued or at risk of suffering a major correction, according to the 2019 UBS Global Real Estate Bubble Index. The report, which is designed to track the risk of property price bubbles in global cities, rates Dubai as offering 'fair value' – the most positive rating – alongside Boston, Singapore and Milan. Cities with the highest risk rating and subsequently offering the least value to investors included Tokyo, Munich Sydney, London, Los Angeles and Zurich. Dubai has received a positive rating in the UBS report every year since its inception in 2017. 
Dubai business optimism rises ahead of Expo 2020: Dubai's economic growth is set to accelerate in the lead up to Expo 2020 following a significant rise in business sentiment in the third quarter of the year. In its latest quarterly business survey, government authority Dubai Economy reveals the Composite Business Confidence Index (BCI) of firms based in Dubai increased 14.9 points to 129.8 points, up from 114.9 points in the second quarter. According to Dubai Economy, businesses are more upbeat about hiring, sales revenue and volumes on account of an expected improvement in business conditions and optimism surrounding Expo 2020.
NOVEMBER
TFG breaks new ground with Fractional Ownership sale: The First Group marks another major milestone, becoming the first property developer in Dubai to sell a hotel unit in the city under the Dubai Land Department's (DLD) landmark Fractional Ownership scheme. The luxury hotel unit is located in Ciel, the firm's landmark development in Dubai Marina, which will claim the title of world's tallest hotel upon completion. The First Group and the DLD marked the formal registration of the unit and issuing of the property's title deed with an official ceremony at the DLD's headquarters in Deira earlier this week. Attending the ceremony were The First Group's CEO, Rob Burns, and representatives of the DLD."Fractional Ownership provides an incredible opportunity for new clients to gain access to the booming hotel investment market in Dubai and for existing clients to broaden their investment portfolios with us. The innovative nature of the scheme is a credit to the foresight of Dubai's leaders in further strengthening the appeal of Dubai's property sector to international investors," commented Burns.
Dubai property transactions up 134% in Q3, '19: The total number of property transactions reported in Dubai has risen 134% since the launch of the emirate's Higher Committee of Real Estate, according to new data published by Dubai Land Department. The committee, which is chaired by Deputy Ruler of Dubai Sheikh Maktoum Mohammed bin Rashid Al Maktoum, launched in September with the aim of bringing greater equilibrium to demand and supply in the city's real estate market. The news follows an earlier announcement by the DLD, which revealed the total value of property transactions reported in Dubai to date this year exceeds AED56 billion (US$15.2 billion).
MasterChef, the TV Experience wins prestigious industry award: MasterChef, the TV Experience, the world's first restaurant based on the MasterChef reality television series, is named 'Best Newcomer' at the Hotel & Catering News Middle East Leaders in F&B Awards 2019. The restaurant, which opened in Dubai's Millennium Place Marina last April, beat seven high-profile rivals to win the award, including Gordon Ramsay's Hell's Kitchen at Caesar's Palace Bluewaters Dubai and Wavehouse at Atlantis, The Palm. "It is a huge honour to accept this award on behalf of the entire team, which has worked tirelessly to establish MasterChef, the TV Experience as one of Dubai's most exciting and original restaurants," said Duncan Fraser-Smith, Vice President of Food & Beverage at The First Group. "We are proud to have had the opportunity to introduce this amazing concept to diners in Dubai and look forward to delivering new and equally exciting restaurant experiences in the future."
DECEMBER
UAE dominates regional hotel development pipeline: The UAE, led by upcoming developments in Dubai, consolidated its position as the region's largest and most important hotel market in October, according to new data published by hotel industry analyst STR.The firm's monthly hotel pipeline data showed 434 projects accounting for 119,991 rooms currently under construction in the Middle East. In addition, there are 28,541 rooms in the final planning stage and 45,273 rooms in planning, according to STR. The UAE has 52,810 guestrooms under construction, equating to 30.1% of existing supply in the country. By comparison, second-ranked Saudi Arabia has 38,912 guestrooms under construction.
Dubai to benefit from GCC's double-digit Indian visitor surge: The GCC will welcome 9.8 million visitors by 2024, a significant 81% increase on the 2018 figure of 5.4 million, according to the latest data from Colliers International. More than 20% of India's total outbound market will travel to the GCC by 2024, with business and leisure underpinning this demand, statistics published ahead of Arabian Travel Market (ATM) 2020 reveal.  "This influx of Indian visitors to the GCC shows no sign of abating, with every reason to believe India will maintain its position as a top source market as the region prepares to welcome an estimated increase of 81% by 2024, providing a significant boost to the region's tourism industry as we look ahead," said Danielle Curtis, Exhibition Director ME, ATM, which will take place at Dubai World Trade Centre from 19-22 April, 2020.