Dubai set to benefit from major hotel investments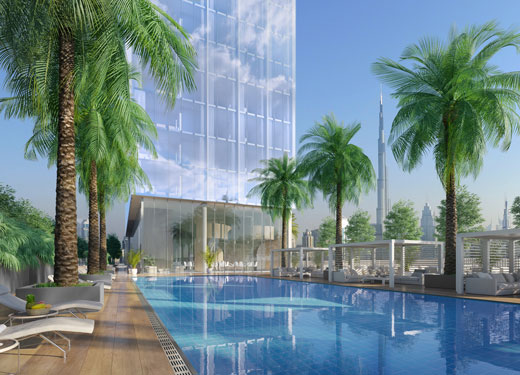 A new report from MEED Projects predicts the city will be a major beneficiary of the multi-billion-dollar investments planned across the region over the next five years
Almost US$30 billion-worth of new hotel developments will enter the pipeline in the Middle East and North Africa between now and 2023, with the UAE and Dubai accounting for a significant number of projects, according to the second annual AHIC Hotel Investment Forecast, which has been published ahead of the 2019 Arabian Hotel Investment Conference (AHIC).
The research, which is based on data compiled by MEED Projects, suggests 2019 will be an exciting year for the region's hotel development sector.
Ed James, director of Content and Analysis at projects tracking service, MEED Projects, said: "More than 800 new hotels worth in excess of US$44 billion have been built over the past seven years in the Middle East and North Africa, as the region benefits from increased visitor numbers, new world-class tourist attractions and investment in transport infrastructure.
"Leading the way in this tourism drive has been the UAE, with more than US$20 billion worth of hotel construction contracts awarded since 2012. This total is more than double the amount awarded in the second-highest country, Saudi Arabia, which saw just over US$10 billion worth of hotel deals awarded in the same timeframe."
According to the AHIC Hotel Investment Forecast, the levels of investment show no signs of slowing.
"Just under US$30 billio-worth of hotels are due to be awarded in the region over the next five years," revealed James. "The UAE again leads the way with almost US$11 billion-worth of planned and un-awarded hotel projects.
"Egypt, which has a long-established tourism sector, is the second largest future market with just over US$4 billion-worth of hotel projects. It is followed closely by Saudi Arabia at US$3.9 billion."
The First Group is one of Dubai's most active hotel developers, with seven projects currently underway in key precincts across Dubai, including Business Bay, Jumeirah Village and Dubai Marina.
The First Group's established portfolio of award-winning residential and hotel property developments, which are located in some of Dubai's most popular and exciting precincts, has placed the firm in a strong position for long-term, sustainable success.
The First Group's current hotel pipeline comprises more than 3,500 keys, including 1,042 units in its recently announced landmark development, Ciel Tower in Dubai Marina, which will be the world's tallest hotel upon its completion and boast one of the highest observation decks in Dubai.
Its newest hotel project, Millennium Place Marina, is scheduled to open later this month in Dubai Marina. The 462-key upper midscale hotel will be operated by The First Group's operating partner, Millennium Hotels & Resorts under its new Millennium Place brand.
Millennium Place Marinais set to become an F&B destination in its own right, with the hotel hosting the world's first MasterChef the TV Experience restaurant.
Based on the hugely popular MasterChef reality television series, the restaurant will introduce a world-first dining experience to Dubai that will showcase the talents and recipes of MasterChef series contestants from the 52 territories where the programme is produced worldwide.
AHIC has established itself as one of the most important annual hotel investment forums focusing on the MENA region. This year's event, which will be staged in Ras Al Khaimah for the second consecutive year, is set to host more than more than 800 hotel investors, major developers, leading financiers, and C-level hotel executives.
AHIC 2019 will be held from 9-11 April at a new purpose-built AHIC Village in the grounds of the Waldorf Astoria Ras Al Khaimah.