Dubai International welcomes almost 7 million passengers in February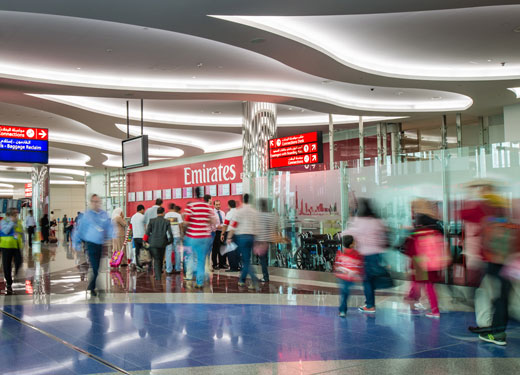 Dubai International Airport (DXB) welcomed 6.92 million passengers in February, proving the airport's growth strategy remains on track.
The total saw DXB's year-to-date traffic figure reach 14,888,693 passengers, with the fastest growing source market during this period being Eastern Europe, which recorded a year-on-year growth rate of 17.6%, followed by South America (13.3%) and CIS (12.1%).
The airport's top destination country in terms of passenger numbers was India, with the total number reaching 962,425.
This number reflects India's position as Dubai's top tourism source market. In January alone, more than 211,000 Indians visited Dubai, up from 205,000 a year prior.
Dubai welcomed 1.52 million international visitors in January, according to data from Dubai Tourism.
The UK ranked second in terms of passenger numbers at DXB, with 505,255 Brits using the airport during the surveyed period, followed by Saudi Arabia with 490,058 and Pakistan with 336,875 passengers. London topped the list of destination cities with 305,768 passengers, followed by Mumbai (207,038 passengers), and Bangkok (201,077).
Flight movements at DXB totalled 31,456 in February. Year to date flight movements totalled 66,762.
The average number of passengers per movement during February reached 228 compared to 223 during the corresponding month in 2017, an increase of 2.2%.  
Meanwhile, DXB was named among the top three airports in the Middle East in terms of service quality in 2017, according to a new survey by industry body Airports Council International.
The facility was also named 'Most Improved Airport in the Middle East' in the survey, which assesses the top 100 busiest airports in the world and is judged on feedback from 600,000 passengers from 84 countries worldwide.