The First Group teams up with Gargash Mercedes-Benz to deliver a new level of luxury, quality and high class performance to clients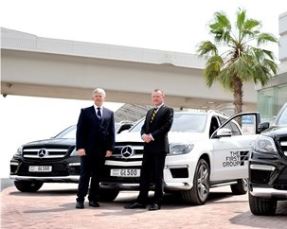 THE FIRST GROUP TEAMS UP WITH GARGASH MERCEDES-BENZ TO DELIVER A NEW LEVEL OF LUXURY, QUALITY AND HIGH CLASS PERFORMANCE TO CLIENTS
Prestigious collaboration begins with The First Group's acquisition of 30 brand new 2014 GL 500's to add to their VIP customer fleet
Dubai, UAE, July 2014: Property investors with The First Group can look forward to a new level of travel comfort and luxury thanks to a prestigious agreement with Gargash Mercedes-Benz, the authorised distributor of the Mercedes-Benz in Dubai, Sharjah and the Northern Emirates. The collaboration will see The First Group add 30 new 2014 Mercedes-Benz GL-Class SUVs to their fleet of VIP client vehicles.
"We are honoured to announce this partnership with the highly renowned Mercedes-Benz name and Gargash Enterprises, a brand that has gained such a reputation for excellence within the region's automotive market," said Rob Burns, Chief Operating Officer of The First Group. "As a longtime customer of Mercedes-Benz, I have experience firsthand the exceptional quality, high performance and superior service which has made Mercedes-Benz one of the world's most respected brands. We are very proud to align with Mercedes-Benz as it will greatly enhance the experience our customers will enjoy. We very much look forward to working towards building what will be a long term mutually beneficial relationship with Gargash Enterprises."
"We are really pleased to team up with The First Group, one of the leading property development companies in UAE, and looking forward to expand this relationship further with future ventures. The Mercedes-Benz GL-Class is one of the most sophisticated seven seater SUVs in the market, thanks to its stunning design, luxurious & spacious interior and its off-road capability. We are positive that their clients will be highly impressed with the best in class Mercedes-Benz GL 500" commented Karl-Johan Sandesjo, General Manager at Gargash Enterprises.
Each of the 30 vehicles will be branded with The First Group's name and logo and used to chauffeur VIP clients during their Dubai visits.
About The First Group:
The First Group is an internationally acclaimed, British-owned, global property development company based in Dubai, with an exclusive focus on creating innovative, iconic hotel projects. The company is co-founded by Danny Lubert and Gary Shepherd who have an outstanding track record, with more than 30 years of collective senior management expertise. Joint chairmen, Lubert and Shepherd draw from strong and diverse backgrounds in the fields of global property, finance, acquisition, marketing and product development. The First Group and its founders' expert eye for emerging property market potential and prestigious partnerships with industry leaders mean that owners can enjoy secure and attractive returns from one of the world's most vibrant hotel markets. With a global headquarters in Dubai and offices spanning Moscow, Almaty, Kazan, Astana, Abuja, Lagos and Jeddah, The First Group's expansive client base is already enjoying lucrative financial rewards. For more details visit www.thefirstgroup.com
About Gargash Enterprises:
Gargash Enterprises has been the authorized General Distributor of Mercedes-Benz in Dubai, Sharjah and the Northern Emirates since 1958. With showrooms and service centers across Dubai, Sharjah, Ras Al Khaimah and Al Fujairah; Gargash Enterprises provides customer focused operations representing the Mercedes-Benz brand in the best possible way. For more information, visit www.gargash.ae