The First Group hosts magical Christmas Party for SOS Children's Village in Abuja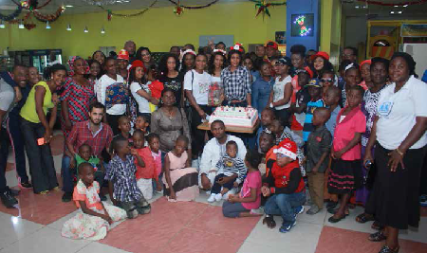 The First Group team gives kids a day to remember at city's Magicland theme park
The First Group team in the Nigerian capital of Abuja has thrown a funpacked Christmas party for the kids and staff of SOS Children's Village.
The 'SOS Holiday Party', which took place on 12th December at the popular Magicland theme park, was a "remarkable day", said The First Group's Abuja office manager, Titilayo Olorunshola.
"We had a fantastic day with the SOS children and all credit goes to The First Group staff who gave their all to ensure the kids had an unforgettable experience," she said. 
The event started with an opening prayer, followed by a question-and-answer session, some hors d'oeuvres and then a dancing competition for various village houses before the main meal. 
The best was saved until last when after their meal, the children met Santa Claus who gave them each a gift, putting a "beautiful smile" on their faces, said Titilayo. Indoor and outdoor games and photo sessions were also part of the festivities.
A special mention goes to the Magicland staff who helped coordinate the event with The First Group and provided gifts for the kids.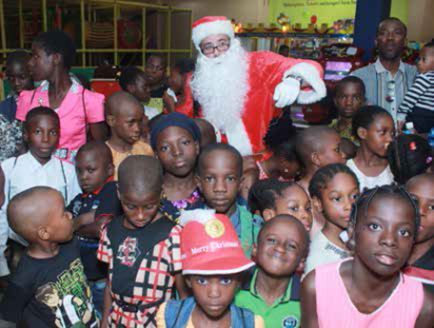 "I believe the party will be forever in the hearts of these children and their guardians," Titilayo added.
The SOS Children's Village charity provides sponsorship for orphaned and abandoned children across Nigeria.
Sponsorship funds pay for village houses and also help provide education, food and clothing for the children. 
First established in 1949, SOS Children's Village International encompasses more than 490 children's villages in 124 countries. The First Group sponsors 50 children in SOS Children's Villages each year.
The first SOS Children's Village in Nigeria was built in 1970 and today there are five 'villages' countrywide, each comprising 10-12 family houses with medical facilities, a kindergarten and primary schools.
SOS Children's Village is one of two charities The First Group supports in Nigeria. The company also contributes funds to The Kanu Heart Foundation, the charity established by Brand Ambassador and footballer Kanu Nwankwo, to help children in need of life-saving cardiac surgery.