The First Group gets behind Wyndham Hotel Group's BeWell Cycle Tour UAE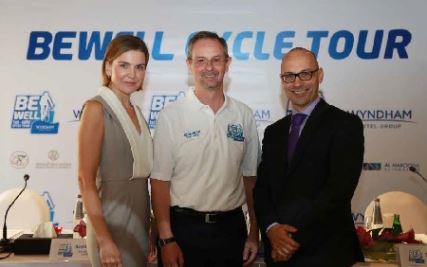 The First Group confirmed as a Gold Level Sponsor of the initiative, which promotes healthy living through cycling, in a show of support to one of its top hotel partners
Dubai, UAE: The First Group is getting behind Wyndham Hotel Group's 'BeWell Cycle Tour UAE' campaign, which promotes healthy living through cycling. In a show of support to one of its top hotel partners, The First Group has become a Gold Level Sponsor of the sports-led initiative, which is designed to reduce obesity rates in the UAE.
The BeWell Cycle Tour UAE will promote health and fitness in the UAE and encourage the local community to join in the fight against obesity by getting on their bikes for a dedicated cycle tour on Friday, 12 February 2016. The tour will cover four routes of varying distances to ensure cyclists of all fitness levels can take part. They include Abu Dhabi to Dubai (146km), Ras Al Khaimah to Dubai (142km), Ajman to Dubai (61km) and a 20km tour of Dubai.
"As a Dubai-headquartered company, The First Group is committed to supporting initiatives that promote the health and wellbeing of the UAE community," said The First Group's Chief Operating Officer, Rob Burns. "By becoming a Gold Level Sponsor of the BeWell Cycle Tour UAE, we aim to cement our status as a brand that gives back to Dubai while solidifying our partnership with Wyndham Hotel Group, the world's largest hotel company."
Wyndham Hotel Group has also launched the 'BeWell Ambassadors Program' in collaboration with Mediclinic Middle  East. Ambassadors will be selected to undertake a specialised training program with Mediclinic Middle East that is designed to improve their lifestyle and general wellbeing. Ambassadors will also participate in the BeWell Cycle Tour UAE to celebrate their achievement.
Members of the UAE community interested in becoming an ambassador can apply online at www.bewell-tour.com. Successful candidates will be announced on 25 November at a dedicated BeWell sports event at the Dubai Autodrome, staged as part of the UAE National Sports Day celebrations. "We understand the importance of a healthy lifestyle and it is our aim to spread the message to more people across the UAE. We want to make exercise as enjoyable as possible and what better way to do this than cycling across the Emirates," said Wyndham Hotel Group Regional VP Middle East & Africa, Michael Zager. "The BeWell Cycle Tour UAE is open to everyone, whether you have been training for years or just want to try something new."
Wyndham Hotel Group has also joined forces with Dubai-based healthcare-focused philanthropic organisation, the Al Jalila Foundation, enabling guests staying at Wyndham Hotel Group Properties (Wyndham Hotels & Resorts, Ramada, Howard Johnson, Hawthorn Suites by Wyndham and TRYP by Wyndham) to make donations to the foundation's obesity research fund.
About Wyndham Hotel Group
Wyndham Hotel Group, part of the Wyndham Worldwide (NYSE:WYN) family of companies, is the world's largest hotel company with approximately 7,700 properties and over 668,500 rooms in 71 countriesunder the hotel brands: Wyndham® Hotels and Resorts, Ramada®, Days Inn®, Super 8®, Wingate by Wyndham®, Baymont Inn & Suites®, Microtel Inn & Suites® by Wyndham, Hawthorn Suites by Wyndham®, TRYP by Wyndham®, Howard Johnson®, Travelodge® and Knights Inn®. In addition, the company has licence agreements to franchise the Planet Hollywood Hotels, Dream® and Night® brands and provide management services globally.
All hotels are independently owned and operated excluding certain Wyndham, Hawthorn Suites by Wyndham and TRYP by Wyndham hotels as well as certain international Ramada, Days Inn and Super 8 hotels, which may be managed by one of the affiliates of Wyndham Hotel Group. Wyndham Hotel Group is based in Parsippany, N.J., United States. Additional information is available at www.wyndhamworldwide.com.
About The First Group: The First Group is a British-owned international hotel & property development company, whose principals have built up its expertise and success in the global market over the last 30 years. The First Group management team draws from strong and diverse backgrounds in the fields of global property, finance, acquisition, marketing and product development. Its expert eye for emerging property market potential and prestigious partnerships with industry leaders means that its clients can enjoy secure and attractive returns from one of the world's most vibrant hotel markets. With its global headquarters in Dubai and offices spanning Moscow, Almaty, Kazan, Astana, Baku, Abuja, Lagos, Jeddah, Riyadh, Khobar, The First Group's client base is expanding rapidly.