TFG F&B shaking up Dubai's hospitality sector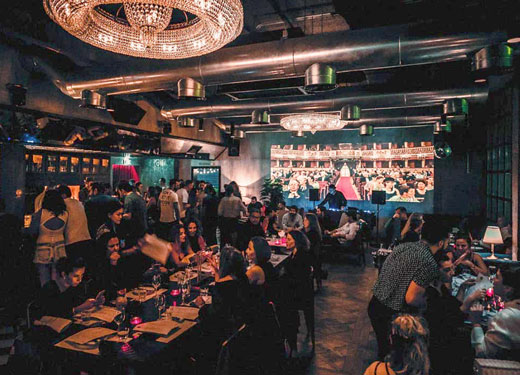 Barbary Deli + Cocktail Club, the hip new bar and nightclub from The First Group's Eaternity F&B Division, has earned rave reviews since its opening in early 2018.
Harking back to the decadent era of 1920s Paris, the venue, which is located in Tryp by Wyndham Barsha Heights,features an inspired interior design dominated by luscious red tones, retro soft furnishings and sophisticated mood lighting.
Barbary's growing reputation as one of Dubai's hottest nightspots is earning industry plaudits as well, with the venue being nominated for multiple prestigious awards in recent months.
High-profile nominations include 'best new nightlife venue' in Time Out Dubai's Music & Nightlife Awards 2018; 'newcomer (venue) of the year' in the What's On Nightlife Awards 2018; 'best homegrown restaurant', 'best casual brunch' and 'best happy hour' in the BBC Good Food ME Awards 2018; and 'newcomer – Casual Dining' at the FACT Dining Awards 2018.
The results cap a stellar 2018 for The First Group's F&B division, which ranks among the firm's fastest growing businesses.
The company has launched multiple new F&B outlets in Dubai this year, with highlights including Blacksmith restaurant in Wyndham Dubai Marina hotel, which TimeOut Dubai recently praised as "THE place for barbecue purists", and Local, Tryp by Wyndham's popular rustic social eating house, which features an innovative Mediterranean- and gastro-pub inspired menu.
Next cab off the rank is the world's first MasterChef The TV Experience restaurant, located in the firm's forthcoming Millennium Place Dubai Marina Hotel, which is scheduled to open later this year.
Based on the hugely popular MasterChef reality television series, the restaurant will introduce a world-first dining experience to Dubai that will showcase the talents and recipes of MasterChef series contestants from the 52 territories where the programme is produced worldwide.
"The fact Dubai will introduce the brand to the world is a truly significant moment for the city's restaurant scene," commented The First Group's director of Global Food & Beverage, Duncan Fraser-Smith, adding that the firm plans to introduce up to 40 original and world-first dining concepts to the UAE by 2021.
"We are committed to developing unique, fun and interesting F&B concepts unlike anything else in Dubai. This ethos is encapsulated in all of our openings to date and will be showcased in MasterChef the TV Experiencewhen it opens at Wyndham West Bay Dubai Marina," he continued.
"We are passionate about delivering exceptional and original dining experiences with soul."