CITIZENSHIP BY INVESTMENT PROGRAM
Explore visa-free travel and secure your financial future with a second passport.
Why should you get a Second Citizenship?

VISA FREE TRAVEL
Explore 165 countries around the world

FINANCIAL FREEDOM
Benefit from Zero Taxation opportunities

FAST TRACK APPLICATION
Get your Second Citizenship within 90-120 days

SECURE LEGACY
You can pass on the citizenship to future generations
Get Started Now
THE GOLD STANDARD:
ANTIGUA & BARBUDA'S CIP PROGRAMME
Second passports or Gold passports are considered to be the ultimate luxury status symbol of the 21st century among the rich and wealthy.
Antigua & Barbuda's CIP Programme is one of the world's most popular and respected Citizenship by Investment schemes. In 2019, their CIP program added over 10 jurisdictions to their list of countries with visa-free travel access, making it the strongest carribean CIP program in the world. It is also very popular as it is known to be the cheapest programme for families.
Ranked in the top 5 by the Citizenship by Investment (CBI) Index, a citizenship from Antigua & Barbuda is the most valuable option in terms of freedom of movement, standard of living, minimum investment outlay, citizenship timeline, ease of processing, and due diligence.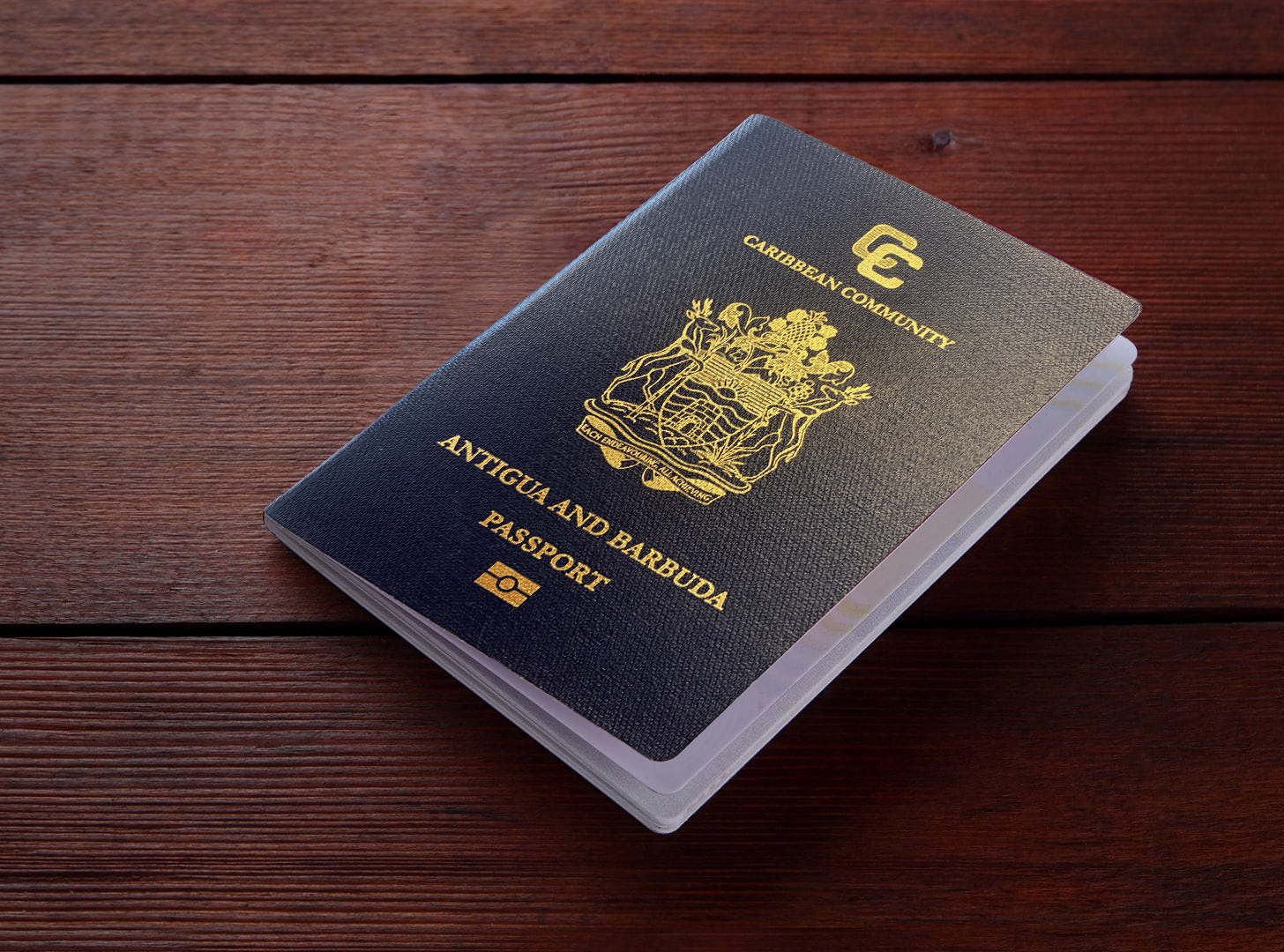 The Citizenship by investment Program requires you to make a stipulated economic contribution to the country through a donation to the National Development Fund (NDF).
USD 100,000
(Up to 4 family members)
USD 125,000
(family of 5+ members)
LAND OF 365 BEACHES: ANTIGUA & BARBUDA
WHERE IS ANTIGUA & BARBUDA?
The two tropical islands of Antigua and Barbuda are located in the heart of the Caribbean Sea, about a thousand miles to the east of Jamaica. The country is in the West Indies in the Americas.
A SAFE HAVEN
Antigua and Barbuda's endless beaches and tropical weather makes it a prime tourist destination. Tourism dominates the economy, accounting for nearly 60% of GDP and 40% of investment. This along with their offshore financial services, makes Antigua and Barbuda one of the Carribean's most prosperous nations.
HIGHLIGHTS
Capital: St. John's
Currency: Tied to the USD; 1 USD = 2.7 XCD
GDP (2016): USD 1.449 Billion
Languages: English & local dialects
ENJOY VISA-FREE TRAVEL TO 165 COUNTRIES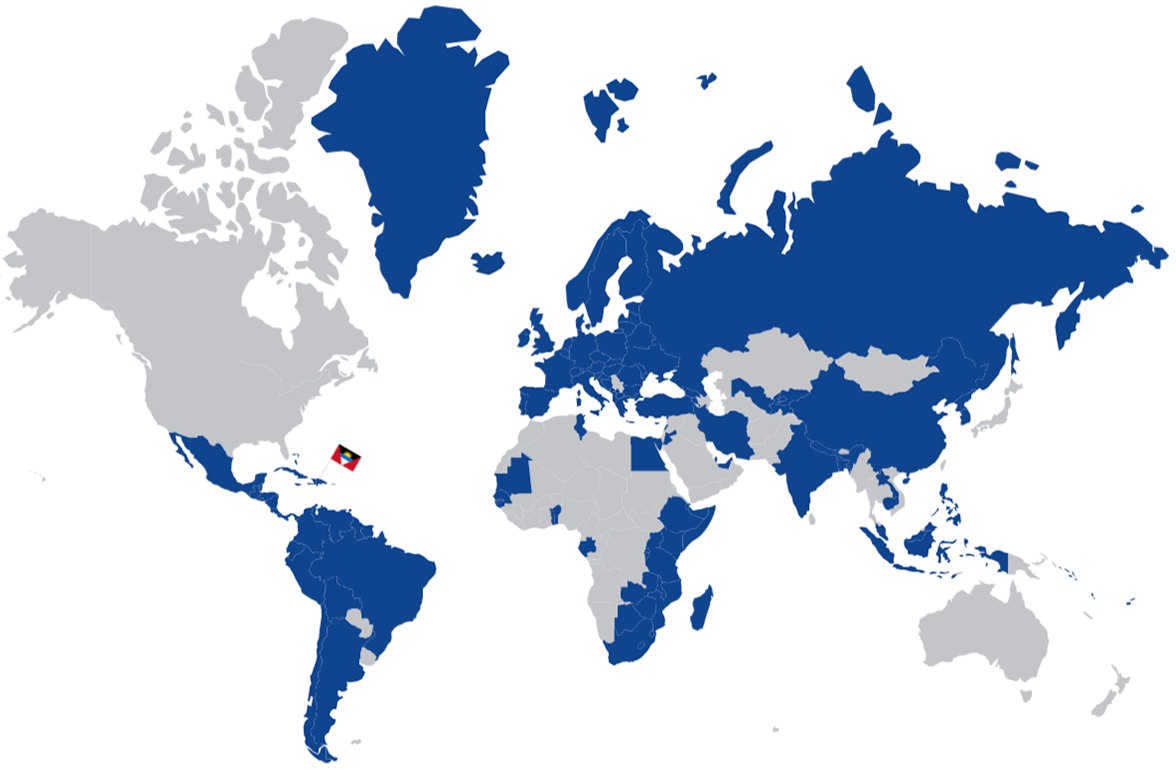 EUROPE AND RUSSIA
Albania
Andorra
Austria
Akrotiri and Dhekelia 
Belgium
Bosnia and Herzegovina
Bulgaria
Belarus
Croatia
Cyprus
Czech Republic
Denmark
Estonia
Finland
France
Germany
Greece
Greenland
Hungary
Iceland
Ireland
Isle of Man
Italy
Kosovo
Latvia
Liechtenstein
Lithuania
Luxembourg
Macedonia
Malta
Monaco
Netherlands
Norway
Poland
Portugal
Romania
Russian Federation
Saint Pierre & Miquelon
Slovakia
Slovenia
Spain
Sweden
Switzerland
Ukraine
United Kingdom
Uzbekistan
Vatican City
ASIA PACIFIC & AFRICA
Armenia
Bahrain
Bangladesh
Benin
Botswana
Burundi
Cambodia
Cape Verde
China
Cook Islands
Colombia
Comoros
Djibouti
Egypt
Fiji
Gambia
Georgia
Guinea-Bissau
Hong Kong
India
Indonesia
Kiribati
Jordan
Korea North
Korea South
Laos
Lebanon
Lesotho
Macao
Madagascar
Malawi
Malaysia
Maldives
Mauritania
Mauritius
Micronesia
Mozambique
Nepal
New Caledonia
Nicaragua
Niue
Palau
Philippines
Pitcairn Islands
Reunion
Samoa
Seychelles
Singapore
Solomon Islands
South Africa
Suriname
Swaziland
Tanzania
Timor-Leste
Togo
Tunisia
Turkey
Tuvalu
Uganda
United Arab Emirates
Vanatu
Wallis & Futuna
Zambia
Zimbabwe
THE AMERICAS
Anguilla
Argentina
Bahamas
Barbados
Bermuda
Belize
Bolivia
Brazil
Chile
Rica Costa
Cuba
Cayman Islands
Dominica
Dominican Republic
Ecuador
El Salvador
Grenada
Guatemala
Guyana
Haiti
Honduras
Jamaica
Mexico
Panama
Peru
Saint Kitts and Nevis
Saint Lucia
Saint Vincent the and Grenadines
San Marino
Saint Helena
Trinidad and Tobado
Venezuela
British Virgin Islands
Montserrat
St.Helena
Turks and Caicos
French Guiana
French Polynesia
Guadeloupe
Martinique
St.Barth's
St.Martin
GET IN TOUCH
Get in touch now and let us help you take your first step towards a second citizenship.